Don't you just love how Heuchera Varieties can seriously improve your home's ambiance and overall decor? And speaking of ornamental plants, you just can't miss the heuchera varieties. These lovely plants not only offer a different structure compared to other plants but there are many heuchera varieties to choose from. Continue reading and learn everything you need to know about the different heuchera varieties.
If you have made upon getting a new plant to decorate your garden and house, you can't go wrong with the heuchera varieties. Whether you're expanding your collection or simply starting out, a heuchera plant is a fantastic option. Heuchera varieties are praised for their ruffled and colorful ornamental foliage. Known for their fall colors, during spring and summer, their nectar-rich flowers attract both butterflies and hummingbirds.
With so many varieties, it can be quite difficult to identify them. One thing is for sure, you'll definitely find a heuchera type that suits every environment and therefore a good taste. Discover how heuchera varieties can enhance your garden and elevate your plant collection to the next level.
Heuchera Varieties
It's hard to choose the right variety for your garden, one that is spectacular but will still thrive with a minimum of care and fuss; 'Caramel' is just such a variety.
It's a bold combination of yellow, orange, and red shades that shines in the garden and keeps its unique, scintillating color throughout the growing season.
Thin flower stalks rise above the foliage carrying small white flowers in the summer months that attract hummingbirds to add to the color show in your garden. Plant 'Caramel' in a partial to full shade area and get ready for a Heuchera that lives up to its billing.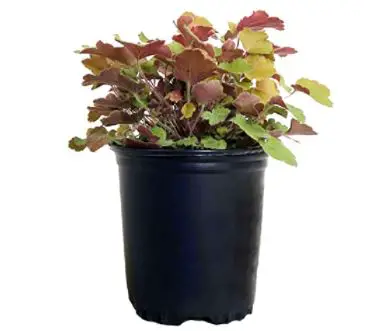 Features:
Peach-yellow foliage
Summer Blooming
Shade
---
It is a beautiful plant that gets lovely white, pink, or red flowers and great foliage in many color patterns.
These beautiful plants are hardy to USDA zone 4, and you could get some very unique and beautiful plants from this mix.
There are seeds in this mix with purple leaves, variegated leaves, silver leaves, and many others. A few varieties included are Amber Waves, Cinnabar Silver, Plum Pudding, Pewter Veil, and others.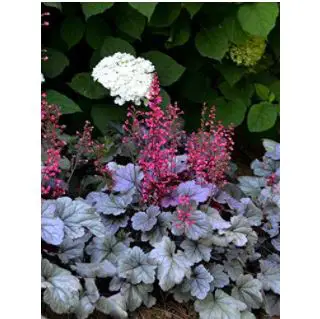 Features:
Great foliage
Many color patterns
Mixed seeds
---
Deep purple foliage in spring changes to bronze in summer. Adorned with white flowers. This purple palace needs light exposure: part shade, shade.
Hardiness zones 4-7 habit: clumping, mounded. Perennial. Spring flowering.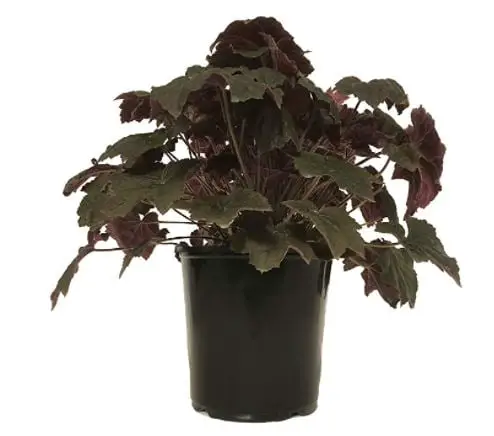 Features:
Partial Shade
Purple Palace
Summer, Spring Blooming
---
Vigorous and large-flowered, these varieties make excellent border plants with their nearly evergreen foliage in neat clumps. Bright flowers are held aloft on airy stems from May through July. It can be used in a shady courtyard, pot, or as a groundcover under deciduous trees.
It has shiny dark purple leaves with charcoal veins that produce rosy pink flowers on dark purple scapes. This plant is a Heuchera villosa hybrid. The villosa species is a large, late blooming type that exhibits an increased tolerance of high heat and humidity over other species.
Coral bells are easy to grow and blend easily with most other perennials in the landscape. Because of their low, mounding habit, they are often used as edging along paths or in containers. Try cutting a few of the tall flower scapes for fresh bouquets.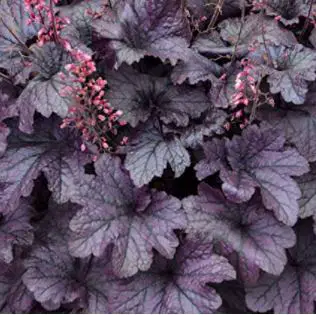 Features:
Partial Shade
Hardy Zones 3-9
Mid Season
---
Heuchera Coral Bells provide lovely rosy red flowers from early spring through mid-summer. The flowers are great for cutting and add beauty to any arrangement.
Start these flower seeds with cold treatment to help break dormancy. Use 8 to 10 seeds per plant. Firefly plants have low-mounding foliage, but the flowers will reach 12 to 16 inches tall.
Heuchera sanguinea firefly is an excellent border plant with neat, evergreen foliage and graceful nodding flowers.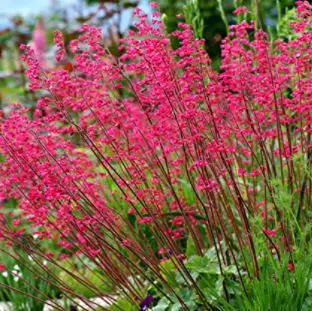 Features:
Summer, Spring
Partial Sun
Regular Watering
---
How to Care for Heucheras?
Caring for heuchera plants is pretty simple, and you likely won't need to amend anything or prep in any serious way for their arrival in your garden. Coral Bells like moderate moisture and will do well in partial shade, which is good news if you have a landscape filled with large shade trees.
Light. Coral bells do best in partial shade, especially in hotter climates. Their color can become washed out if they're kept in full sun, and too much light can cause their leaves to scorch.
Soil. Coral bells prefer humus-rich soil with a neutral to slightly acidic soil pH, somewhere between 6.0 and 7.0.
Water. This plant has medium water needs and likes consistently moist soil. Established plants will tolerate some drought, but an inch of water per week is the best way to keep them happy.
Temperature and Humidity. Most coral bells are hardy in USDA hardiness zones four through eight, although exact hardiness does depend on the variety you're growing. In cold areas, coral bells crowns can heave above the soil line in the winter. Winter mulching will help prevent the freezing/thawing cycle that pushes the plants up.
Fertilizer. Heucheras in the spring with a half-inch layer of compost or a light amount of slow-release fertilizer. This plant has light feeding needs; you should avoid heavy applications of quick-release fertilizers, as this will inhibit flowering.
Common Questions About Heuchera Varieties
What are Heucheras?
Coral bells is a traditional perennial foliage plant with hundreds of varieties available, and new introductions offered every year. Native to North America, the plants form round mounds with a woody rootstock or crown at their base and small bell-shaped flowers that appear in spring or early summer on the tall stems.
How to identify Heuchera varieties?
Rich in nectar, the flowers attract hummingbirds and butterflies, plus make nice cut blooms. Their leaves are rounded, lobed, hairy, and evergreen or semi-evergreen, depending on the climate. Besides traditional green-leaved coral bells, new varieties have leaves in shades of purple, rose, lime green, gold, and more.
Do heucheras like sun or shade?
They do well in all well-drained soils, from chalk to clay. Most prefer semi-shade. As a rule of thumb, the darker colored Heucheras withstand full sun better than the lighter colored ones. They will tolerate dry soils but only when established – normally six months after planting.
Do heucheras dieback in winter?
Although most heuchera plants are evergreen in mild climates, the top is likely to die down where winters are chilly. Cut the plant back to about 3 inches (7.6 cm.) in early winter if you live in a cold climate. If your area enjoys mild winters, you don't need to cut the plant back.
What heuchera can take full sun?
Examples include Southern Comfort, Georgia Peach, Caramel, and Fire Alarm. Heucheras are happiest growing in partial shade or morning sun, although in the northern half of the country most of them will also grow in full sun. Dark-leaved varieties such as Palace Purple are usually the most sun-tolerant.
Do heucheras come back every year?
To start with, coral bells are perennials and will come back year after year. They will also multiply on their own and after three or four years may need to be thinned out, but what a joy to have a plant that grows so well you have to "weed it out" every so many years.
What are the different Heuchera varieties?
Heuchera Electra
This type of Heuchera has an interesting color palette to make the characteristic veining of the plant stand out as much as possible. The red veins create a striking contrast against the light green foliage.
Heuchera Electra can really enhance the look of your landscape and the best part is that it's not hard to grow. There's limited maintenance required as the plant is very rarely affected by pests or diseases.
Heuchera Spellbound
This variety is characterized by its stylish silver leaves accented with splashes of purple. The plant has beautiful ornamental leaves but it can also improve the appearance of your garden with the help of white flowers produced in the summer.
Heuchera Caramel
When it comes to foliage shape, this Caramel Coral Bell seems to stand out compared to other varieties. It features a unique lobed design with rounded leaves. While other Heucheras struggle with hot and humid weather conditions, it looks like the Caramel variety is much more tolerant.
Heuchera Melting Fire
The Heuchera Melting Fire can be a bit more difficult to grow compared to other Heucheras. It's important to avoid full sun areas in the garden. Without sufficient shade, the plant's foliage can become scorched.
The best use for Heuchera Melting Fire is to accent your woodland garden with its vibrant color and texture. It's also recommended for walkway edging.
Heuchera Midnight Rose
The Midnight Rose variety can easily take center stage through its mesmerizing appearance. It's recommended to find a special spot for this ornamental plant to take advantage of its eye-catching look. Containers work best to highlight the vibrant coloration of the Heuchera's foliage.
Heuchera Mint Julep
This variety doesn't have flashy foliage but it makes a nice impression in terms of texture to accentuate any zone in the garden.
This is an ideal Heuchera to grow in fully shaded areas of your garden. The variety is versatile enough to be grown in dense clumps and be used for lots of ornamental purposes.
Heuchera Venus
This light-colored ornamental plant represents an excellent companion for dark-colored flowers. The contrast can become more impressive as the Heuchera blooms in late spring. It creates ivory flowers that mix nicely with the foliage and interesting pattern created by the darker veins.
Heuchera Lime Marmalade
This is an excellent ornamental plant for brightening up any garden with some fresh energy. It can easily fulfill a decorative role for any landscape thanks to its vibrant green foliage. You can rely on this Heuchera to work as a mound for highlighting more colorful plants.
Heuchera Berry Smoothie
The color combination works exceptionally well as the Berry Smoothie variety's leaves emerge rose-pink initially only to deepen to purple later.
The Heuchera Berry Smoothie has good landscape value for mass planting or accenting shaded areas.
Heuchera Delta Dawn
Its rose-pink foliage has a lime-green edging that creates a beautiful combination. To make sure the plant thrives, it's recommended to let it absorb direct sunlight in the morning while getting adequate shade in the afternoon.
Read: Hellebore Varieties